Understanding South Korea-Middle East Relations under Moon Jae-in Administration
Keywords:
South Korea, Middle East, domestic politics, foreign policy, conservative and progressive governments
Abstract
The Republic of Korea (hereafter South Korea) has been trying to diversify its foreign relations by engaging with different actors across different regions, including the Middle East. Although most Asian powers seemingly prioritize their foreign relations by focussing on their immediate neighbourhood in Northeast Asia and Southeast Asia, the Middle East has occupied a rather substantial place for a number of reasons. South Korea, starting in the early 1990s, has developed a vision for a more multidimensional and multilateral foreign policy. Spanning successive governments South Korea has deepened its relations with Middle Eastern states, particularly so with the energy providers, despite varying policy perspectives on the Middle East. This article examines the period starting in early 2008 with the Lee Myung-bak presidency up until the end of the Moon Jae-in administration in March 2022. It focuses on Middle East policies to map the changes and continuities in South Korea's foreign policy. The Lee government is often considered to represent a turning point in Korean foreign policy toward a more global vision. Starting with a historical contextualization, the core analytic focus is on the Moon administration's Middle Eastern policy. The analysis seeks to define the respective administrations' agenda priorities towards the Middle East and to offer a comparative evaluation in terms of the governments' political stance and foreign policy nexus.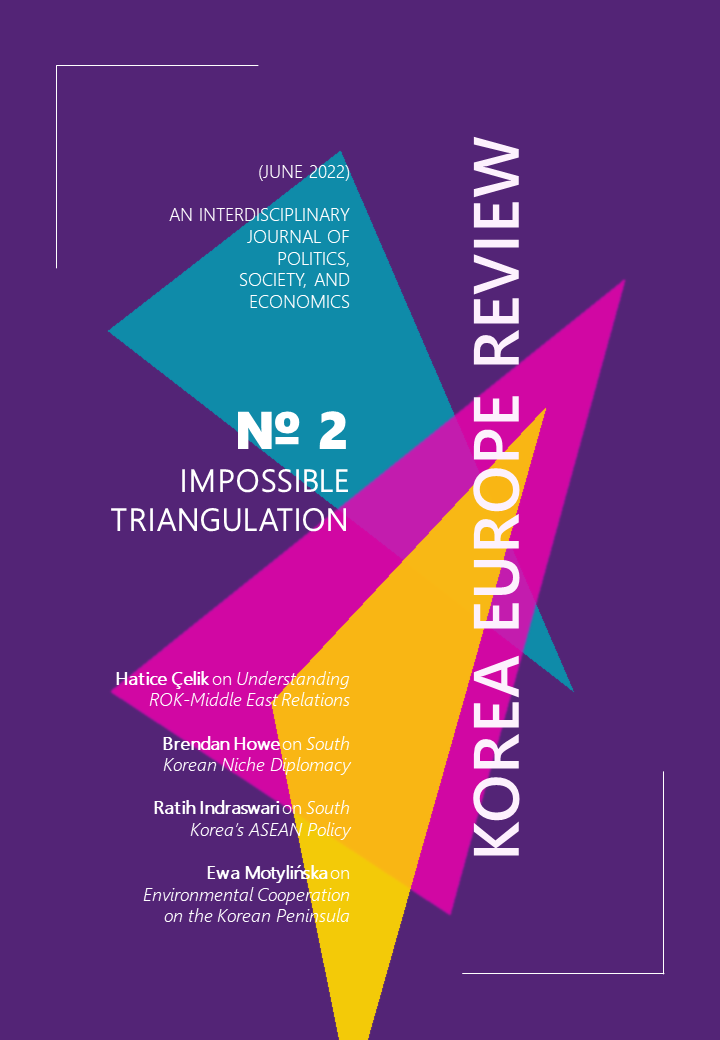 How to Cite
Çelik, Hatice. 2022. "Understanding South Korea-Middle East Relations under Moon Jae-in Administration". Korea Europe Review: An Interdisciplinary Journal of Politics, Society, and Economics, no. 2 (June). Berlin, Germany. https://doi.org/10.48770/ker.2022.no2.11.
Section
Original articles
Copyright (c) 2022 Hatice Çelik
This work is licensed under a Creative Commons Attribution 4.0 International License.